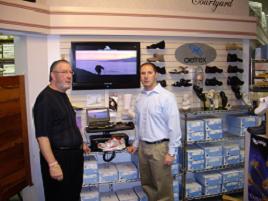 Michael B. Shoes, located in downtown Indiana, was established in 1995 to fulfill the opportunity for a different and innovative type of shoe store. Owner Tony Boiano and his son, Michael, have been working together to bring their patrons customized shoes and a guaranteed fit.

Michael, a board certified podiatrist and professional shoe fitter, will not allow his customers to leave the store until he knows they have received the best product for their needs. This can be guaranteed through the revolutionary foot analysis machine that maps out pressure distribution of customers' feet and allows for maximum comfort and support.

Michael B. Shoes also supports the community through various shoe drives and through its partnership with internationally recognized shoe charity Soles4Souls, which donates a new pair of shoes to people in need every nine seconds.

Michael and Tony's greatest success has been learning to work with people who are in pain and making them feel better daily.

Not only does Michael B. Shoes guarantee a superior service by having the knowledge and newest products in the comfort footwear industry, butalsooffers their Campus Corner, which has a vast supply of IUP merchandise supporting Greek organizations and IUP at large.