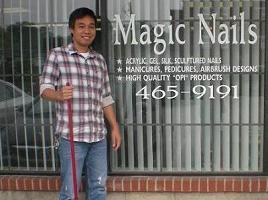 Two years ago, Thanh-Tuan Nguyen Vu and his wife, Thu-Thuy Thi Nguyen (better known as Tee and Twee), bought Magic Nails in Indiana, Pennsylvania. The salon had already been open for over ten years.
Doing their best when servicing each and every customer is the simple philosophy that these friendly owners and their staff live by every day. They put in as much time, energy, honesty, and dedication as possible to keep their customers happy and to get them to return.
Magic Nails has a prime location (on the edge of IUP's campus), and has built up a loyal clientele that keeps the business in the competition with other salons in the area. Reaching out to the community through volunteering for the United Way, helping other organizations advertise, and donating gift certificates for fundraisers also help keep the company popular in Indiana. Tee and Twee are not sure who will succeed them in business; they are young and are focusing on their recent accomplishments.
As far as challenges go, Tee finds that while customers are the key to success and frequently make days more enjoyable, the trickiest part of running the business is relating to different people and their varying personalities. That said, Tee and Twee must relate well, because Magic Nails is all the rage with many IUP students.
If you are looking to get a great manicure and have a pleasant experience, Magic Nails is the perfect place to go.