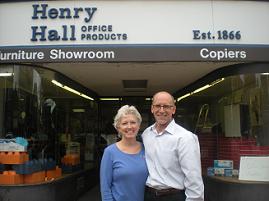 Henry Hall Office Products is a local Indiana store that was established in 1866. It specializes in selling any kind of office supplies and furniture a business could possibly need, from calendars and planners to desk chairs and bookcases.
Jeff and Laura Tobin inherited the company in 1992 as the third generation of owners. Henry Hall is known for its outstanding service and wonderful reputation around the Indiana area. The self-motivated staff strives to sell and ship more products faster than any other store in the world. There are office superstores, like Office Max and Staples, that had been a great threat to Henry Hall throughout the years, but Henry Hall Office Products has held steady and overcome the challenge of being overlooked for these national companies by offering high-quality products with service that is as good as or better than any superstore around. The company also went online before Staples; it has over 40,000 products available on their Internet retail outlet.
Henry Hall takes pride in being able to ship orders faster than any national chain, and offers rebates, online specials, and great prices as well.
Henry Hall makes an effort to lend a hand around the community by participating in local nonprofit organizations' events, like bagging groceries at Giant Eagle for the Cancer Society and donating gifts.
Purchasing supplies from Henry Hall Office Products is the way to not only get the best prices and fastest delivery around, but also the most professional and friendliest service.