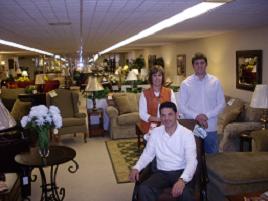 Fisher Furniture, located in Dixonville, Pennsylvania, has always been a store devoted to high-quality furniture at a lower price.

Albert Fisher opened shop in 1945 as a Frigidaire appliance franchise store which slowly developed into the furniture store it is today. The Fishers provide quality furniture ranging from living room and dinette accents to bedroom and office furnishings. Fisher Furniture has been passed down through the generations to Albert's grandson and owner Kevin Fisher. He, his wife Viki, and their son Ian run the store on a very intimate level withone-on-one personalized service.

Even through the economic downturn, they have found ways to make adjustments in operations, and it has paid off through maintaining their objective of preserving the same quality of service at a lower price just as they have always guaranteed.

Fisher Furniture, as a family-owned business, is very conscientious about the community around them. They understand howimportant it is to stay active in supporting fundraisers andschool and community events.