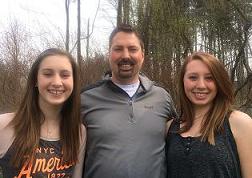 In 1956, Robert P. Cunningham started Cunningham Meats to helplocal farmers who were in need of a place to process their meat. However, this was only the beginning of Cunningham Meats, located on route 422 west of Indiana, which grew exponentially in the years to come.

In 1967, the second-generation owner, Tom Cunningham, added a drip room and an aging cooler. Scott Cunningham, Tom's son and the founder's grandson, is the third-generation owner.

Today, Scott and his team do it all from cutting and cooling to aging, wrapping, smoking, and cooking. A retail portion of the store was also opened in 2008, which includes dairy products and other grocery items such as spices, sauces, breads, beverages, and other snacks, as well as Cunningham's award-winning smoked meats for customers who like to choose their own cuts.

Not only has Cunningham Meats been a huge part of the local community through various means, including hosting the judging for the 4-H Junior livestock program and a number of hot dog fundraisers, but has also been recognized nationally for their smoked meat in the American Association of Meat Processors competition.

Next is a hot-deli with options such as hot pulled pork and beef sandwiches, hot sausage, barbecued ribs, and chicken, as well as other popular meals ready to be served for a lunch and dinner crowd. So stop in and check it out, because "You just can't beat Cunningham Meat!"