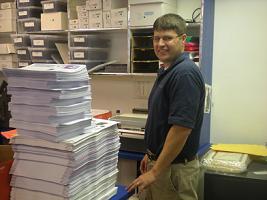 If you live in the Indiana area and/or attend IUP, you have probably heard of Copies Plus. Copies Plus specializes in printing, color copying, and laminating and also sells small office supplies to students and other businesses in Indiana and Johnstown. Copies Plus offers long hours, reasonable prices, and delivery to businesses all over both areas.

Owner Rob Porter took over the business after his father, the founder of Copies Plus, retired. Porter's father always wanted to start his own business and opened the store in 1987. It was originally located on IUP's campus in the Union Station Mall, where the HUB is now, but then grew from serving only the university to the entire Indiana community and beyond.

There is still a lot of contact between Copies Plus and IUP: Porter graduated from the university and has many local friends, some of them professors, who use the services of Copies Plus and help spread the word about them.

While Copies Plus is a great store for college students who need the random term paper laminated or bound, its greatest success thus far has been on the bigger commercial end. The company began with serving only the university and has grown to serve larger retailers and restaurants throughout the region.