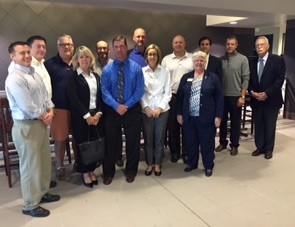 Photo: CFB Next Generation Council at IUP September 15, 2015
The IUP Center for Family Business offers educational opportunities for family-owned businesses.
NEW! Webinars from Family Business Magazine
April 7: Navigating Your Family Enterprise Through Uncharted Waters
"Tackling the challenges of the remote work environment, balancing near-term tactical decisions and long-term growth, specific challenges for family offices and implications of the COVID-19 relief bill from the professions at PwC."
April 14: Accessing your Resilience: Real Stories and Tips for Family Businesses to Deploy in a Crisis
"An exploration of real stories from past crises and idea-sharing that has emerged from the past few weeks from the experts at CFAR."
For more details and to sign up, please click on the link(s) above. Please note that you will need to register for each webinar separately.
The learning objectives for this program include: increase awareness to the financial and emotional dynamics inherent to family succession planning, discuss potential consequences when effective succession strategies are not considered as part of a client's overall financial planning, and evaluate creative ways to balance family/family business needs as part of succession planning.

Disaster brings several situations to mindloss of life, injury, flood, fire, fraud, relocation, loss of documents... What should come to mind is prevention. Join panel experts and learn the best practices for disaster prevention for your business. Learn more about Disaster Preparedness for Business.

This program helps you discover "what matters most" in effective leadership. Build on existing strengths, recognize positive qualities and potential, advance beyond ordinary knowledge and skills, increase inner strengths at a faster rate, develop attitudes and habits that place you at the top, practice skills that produce concrete benefits. Learn more about Effective Organizational Leadership.

Effective Personal Productivity Workshop

This self-improvement course for business owners, managers, and supervisors will help you create a high-performance organization. Topics include: communication, goal setting, dealing with interruptions, increasing productivity, controlling priorities, evaluating attitudes, and making productive behavioral changes. This 12-hour program is taught by an experienced professional trainer..
Succession planning session is important for every business. Expert panelists discuss topics that can include the role of philanthropy in planning, PA inheritance tax, role of trust in succession planning, and critical elements. Following the panel discussion is a Q & A session for participants and panelists. Speakers and topics vary by seminar. Learn more about the Family Business Planning Session.

The Center for Family Business offers an estate planning seminar with panelists. Guest panelists vary at each seminar. Discussion topics include wills, living trusts, powers of attorney, living wills, long term care insurance, charitable contributions, taxes, Pennsylvania inheritance tax, and much more. For more information or to request this seminar be offered in your area, call 724-357-2323 or e-mail center-familybusiness@iup.edu. Learn more about Estate Planning seminars.

The Eberly College of Business, with the Center for Family Business, offers a Mini MBA Program customized for small businesses. Taught by IUP faculty, this 60-hour program provides cutting-edge theories and strategies and the latest terminology, and includes team-building and problem-solving skills that will help your managerial staff become more effective. Sample topics include: finance, marketing, legal environment, e-commerce, communications, management, and more. Learn more about the Mini MBA Program.
The PeerProfiler lunch workshop will help you learn to rank your own business against financial reporting of industry peers, evaluate your business' cash flow health, maximize your business' credit opportunities, and more. For more information, call 724-357-2323 or email center-familybusiness@iup.edu.
Learn more about the March 21, 2019, PeerProfiler seminar.

The Center for Family Business and sponsors provide first-hand experience through panel speakers to provide advice on handling challenges faced by business owners. Learn More about the PowerLink Think Tank.
Inaugural Mini MBA Program for Small Businesses

According to Ruddock, more than 80 percent of America's workforce is employed by family-owned businesses. "These businesses need support to grow and continue to provide jobs to our region," she said. "This program is an excellent resource for small business owners, family business members, managers, and the next generation of leadership preparing for succession in the company. This program is designed as an affordable opportunity for small business owners to educate their key people on best practices and management skills."

Topics addressed in the 60-hour program included economics, organizational analysis, strategic communication, strategic human resource management, legal environment update, financial management, operations and quality management, e-commerce, and strategic management. The program is taught by IUP faculty members over 10 weekly sessions.

"The program has been comprehensive and current," Mark Zilner, vice president of Diamond Pharmacy Services, said. "It's tough to schedule with other responsibilities and travel, but very worthwhile." Several members of the Diamond Pharmacy Services management team completed the program, including Gib Zilner, vice president and co-owner.

For more information regarding the Center for Family Business, call (724) 357-2323 or e-mail center-familybusiness@iup.edu. Questions regarding the Mini MBA Program should be directed to Cyndy Strittmatter at (724) 357-4841.

IUP's Eberly College of Business has been included in the Princeton Review's Best Colleges of Business guidebook for ten consecutive years.