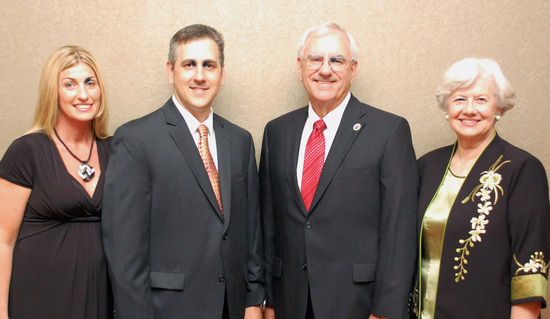 The roots of McLanahan Corporation can be traced to James Craig McLanahan's family leaving Ireland in the early 1700s, bound for the new America.

In the early 1830s, James Craig's family moved from Baltimore, Md., to Hollidaysburg, Pa., where he bought minority ownership of an existing foundry operation that produced castings used in various farm implements in the central Pennsylvania area. In 1848, he bought majority ownership.

The Early Years

In those early years, James Craig McLanahan took on partners as he tried to increase the foundry business and ward off financial ruin following several devastating fires that completely destroyed their foundry. Each time they would construct a larger and more modern facility. James Craig was later joined by his sons, James King and Samuel Calvin. Samuel Calvin was a childhood genius, and, at age 14, he developed the first accounting system for the company and ran two separate machines in the shop that normally required two men.

James King and Samuel Calvin were both true early pioneers, often building equipment for their own needs, or designing machines such as the first practical steam fire engine in 1855 and, in 1866, the first retort coke oven built in this country. Thus it would be no surprise what happened next.

A New Direction

Around 1890, Samuel Calvin turned the direction of the company forever. Trying to deal with wet, sticky clay in the family's phosphate deposits in Florida, he conceived an idea to wash the clay from the rock inside a long box, to which he mounted wooden logs and attached cast iron paddles to them. The machine was so successful at removing the clay and dirt that on January 27, 1891, he secured a patent for his new machine and called it the Log Washer. Soon after, he realized the need for a simple crusher that could handle wet, sticky feed while reducing pieces too large for his Log Washers. In 1894, he invented the Single Roll Crusher by using a split frame design with a crushing roll, breaking material against a solid crushing plate.

Also during this time, McLanahan built the first two "Bradford Breakers," originally designed and patented by Hezekiah Bradford of Reading, Pa., to process coal. This would lead to a full range of rotary equipment, including rotary scrubbers and trommel screens.

As the success and durability of McLanahan equipment became apparent, friends and businessmen from all over the east coast asked McLanahan to build this equipment for their operations. The future of the McLanahan Corporation was determined . . . a manufacturer of process equipment and systems.

Throughout most of the 1900s, McLanahan Corporation was led by Ward McLanahan (third generation), and his son, Craig McLanahan (fourth generation). Under their leadership, the company developed a safety program in the early 1930s, a profit sharing plan in 1951, and a service recognition awards program in 1972, all of which continue today.

Unprecedented Growth

In the late 1980s, Michael W. McLanahan (fifth generation) took over the reins and quickly began to invest money into the company's infrastructure as well as diversifying the product lines by adding licensing agreements with internationally recognized companies and completing acquisitions of other companies.

A World Leader

Through Michael McLanahan's direction and leadership, McLanahan Corporation has developed into an international powerhouse as a supplier of not just equipment, but process solutions. The company is in the unique position of being able to manufacture many of their products from the ground up by using the latest engineering CAD systems (including recently installed +20 seats of 3D modeling) and for electrical engineers with PLC software programming skills. With an on-site foundry and complete machining, fabrication, assembly, and electrical departments, just about everything can be done in-house to ensure the highest quality and customer satisfaction.

Equipment, Systems, and Process Innovation

Back in the 1890s, Samuel Calvin McLanahan's ideas and visions were so successful that he unknowingly set the company on a new course, and, thanks to the hundreds of dedicated employees who followed over the years, continually updating, modernizing, and expanding his designs and ideas, McLanahan Corporation now offers a wide range of equipment and systems to process raw and synthetic materials, including crushing, washing, classifying, screening, dewatering, sorting, mixing, etc. The minerals that are processed through their equipment help ensure a higher standard of living for everyone around the world. Minerals that go through their equipment are made into thousands of products, including buildings, bridges, roads, medicine, cosmetics, roofing shingles, road salt, fertilizer, plastics, toothpaste, electricity, and so many others.

McLanahan Corporation was honored with the 2004 National Family Business of the Year Award presented by MassMutual. The foundry is recognized by Modern Casting magazine as the oldest family-owned foundry in the United States, and McLanahan Corporation was ranked by Family Business magazine as the 44th oldest family-owned business in the country.