Professor Wm. Dennis Ames
This is Dr. Wm. Dennis Ames' 62nd semester as an IUP professor.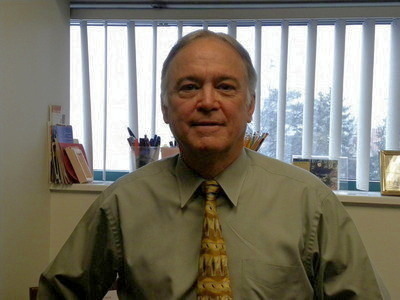 He served four years on active duty in the Air Force, working as a missile systems analyst with a top secret security clearance at Vandenberg Air Force Base in California. During this time in the Air Force, he earned a bachelor's in business administration/economics. Remaining close to V.A.F.B., Ames then got his first salaried job as an associate engineer of Logistics for the Martin Marietta Corp., which had the ground support systems contract for the Space Transportation System. Planning for the space shuttle in the day, achieving his MBA at night, and body surfing on the weekends, the next year and a half was challenging, progressive, and a lot of fun.
Ames then decided to use his remaining G.I. Bill at the Pettit College of Law at Ohio Northern University. During law school, a three-year commitment towards earning a J.D., Ames started fatherhood, worked as a law clerk one summer for a reputable law firm, worked one year as a research assistant for a law school professor, and worked one summer as one of two legal interns at the world headquarters of Marathon Oil Company. Most importantly, Ames got his first experience teaching logistics at ONU's College of Business.
"I really liked teaching," he said, "so when I graduated from law school, I saw this ad from Ball State University which wanted an MBA and a J.D., with teaching experience. I got that job. One year later I got my position at IUP. It's been quite a career here."
Ames has taught at least eight different law, business, and tax courses at both the graduate and undergraduate level for three different departments. Most of his teaching was at IUP's Indiana campus, but he also has taught at Bedford, Punxsutawney, Kittanning, Monroeville, Johnstown, Oakmont, Boyce Park, and Northpointe locations.
"I love being close to youth," he said. "My passion is and has been teaching. I touch the future every time I walk into a classroom."
Ames' favorite class to teach is the Legal Environment of Business course. He favors that class because the topics no doubt will be useful to students in their personal and professional lives.
"I try to lay a lot out there with enthusiasm," Ames said. "I give a lot of examples from my experiences and ongoing education. Hopefully the students are paying attention and absorbing the information and gaining a better sense of reality."
In 1986-1987, Ames did an educational leave of absence without pay. That year was spent at the University of San Diego School of Law achieving an advanced law degree, L.L.M. (Tax), and passing the California Bar Examination. Since then, he has maintained both Pennsylvania and California licenses to practice law by fulfilling hundreds of hours of continuing legal education, mostly concerning business law and taxation. Ames currently serves on the Brookville Equipment Corporation's board of directors. He has also served on Brookville's town council and on the Pinecrest Country Club's board of governors.
Ames is a proud father of two sons, Abe and Blake, and is happily married to a wonderful IUP alum, Lucy. Outside of Eberly, you'll find him working around his beautiful Brookville home, managing his timberland, hunting, playing pool, golfing, or doing what is needed to stay fit.