Professor Wayne Moore
What he thought would be a stint of five years or less turned into a career of 24 years and counting.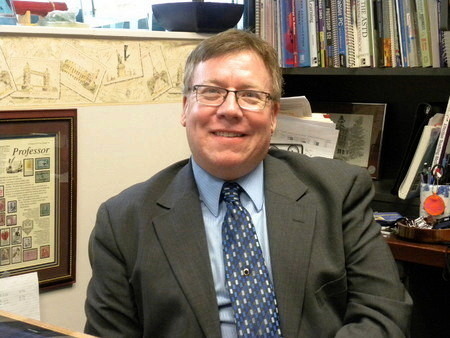 Dr. Wayne Moore of the Technology Support and Training Department has been with IUP since 1988, where he takes a hands-on approach to teaching.
"I love to teach classes where it's more of a collaborative type of activity. I do not like to lecture. I try to be very creative, motivational, and enthusiastic. I try to supplement all the materials."
Moore held three teaching jobs prior to IUP. After earning his bachelor's from Rider University in marketing education, he taught at Cranford High School. He continued his education at Rider, where he achieved his master's in business education and office administration. After a short time as an instructor at a vocational school, he became an instructor at Rider University. In 1993 he earned his doctoral degree in education from Temple University.
"My goal was to teach post-secondary students and to be able to prepare students to become teachers. Business teachers are certified to teach kindergarten through 12th grade, as well as business schools and community colleges."
Moore's passion for teaching is evidenced by his involvement in three education associations: National Business Education Association, National Business Teacher Education Association, and Pennsylvania Business Education Association. His passion has earned him three awards: the Eastern Business Education Association Teacher of the Year, 1996; Pennsylvania Business Education Association Collegiate Educator of the Year, 2006; and National Business Education Association Collegiate Teacher of Year, 2008.
When Moore is in the classroom he tries to utilize technology as much as he can.
"I've used Skype," he said. "At a distance I have used a synchronous classroom on Moodle with Classroom Live.' I enjoy distance learning and it seems to work out very well."
In the Organizational Communication class he is teaching, he tries to bring in guest speakers. He has plans on trying to get a friend who works for Google to speak with the class via Skype.
Moore's other research includes authentic types of assessment projects. He has written journal articles and was involved with the National Business Education Yearbook that was used as an online assessment tool at IUP.
The husband and father of two enjoys wallpapering, gardening, and landscaping. Moore said he also enjoys exercise, which he disciplines himself to do three times a week. He and his wife, Fran, who tutors students in math, have a son, Bryan, an IUP Finance Department graduate who now lives in Harrisburg, and a daughter, Allison, who is enrolled in the IUP Nursing program.
What he thought would be a short career ended up one that still continues at IUP, where he takes the hands-on approach and utilizes the technologies to bring the best education he can to his students.
By Alycia King