Eberly Features: Dr. Robert Boldin
"When you find an organization that you enjoy being associated with and have colleagues that you can effectively work with, that's like money in the bank. I guess when you think about it, it's how and where you fit into an organization. The interaction of its faculty, staff, and students provide a very dynamic setting. Quite simply, it's just a very pleasant environment."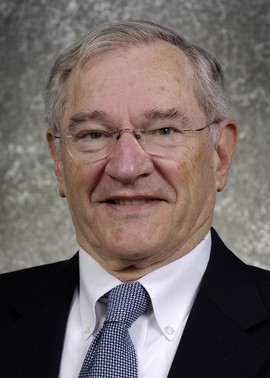 A chemical engineering degree from the University of Pittsburgh and an MBA from Duquesne paved the way for Dr. Robert Boldin's career. After completing his MBA, he worked at Mellon Institute, now a part of Carnegie Mellon University, when his advisor from Duquesne suggested that he consider continuing on for a doctorate.
"Studying for the doctorate was the farthest thing from my mind at that point," Boldin said. "But I decided it might be a capital idea. So within a week I resigned from my job at Mellon Institute and began the Ph.D. program at Wharton."
After completing his doctorate, Boldin returned to Carnegie Mellon, where he worked as the assistant to the treasurer for a couple of years. With plans to move into academic administration, he thought it would be important to have teaching experience, which led him to Franklin and Marshall College.
"After three years, I went back to my old professor at Duquesne. He suggested that I think about teaching at Clarkson University, which had an accredited business school. That's exactly what I did."
After two years of teaching finance at Clarkson University, Boldin made the move to IUP in 1978. In addition to teaching, Boldin has been involved with the Small Business Incubator since its inception in 1988 and became its director in 1997.
"I've always had an interest in small businesses and helping them wherever I can," he said. "In addition to teaching and outreach activities, I do a fair amount of research. I've had about 30 articles published over the years."
Boldin also codirects the Management Services Group, an Eberly College umbrella organization whose components are all geared toward improving the region's economic development. But what about his original plans to move into academic administration? That was the goal that got him into the teaching profession.
"Even though initially I may have had an interest in academic administration, I never left the teaching area," he said. "I really like the interaction with young adults. I believe that's a unique feature of the teaching profession."
Helping students understand the area of finance and helping them prepare for jobs they will have later on are two elements Boldin focuses on.
When he isn't teaching, Boldin enjoys reading about the stock market activity. He also enjoys spending time with family and travelling.
By Alycia King