Eberly Features: Dr. Martha Troxell
China, Scotland, Scandinavian countries, Great Britain, Antarctica. All of them have been visited by Dr. Martha Troxell of the Finance and Legal Studies Department.
A native Pennsylvanian, Troxell began her academic studies at Muhlenberg College in Allentown, Pa., where she majored in economics with an accounting concentration. After finding that she liked the legal side more than the number-crunching, she continued her academic career by going to law school at Temple University, where she earned her juris doctor (J.D.) and master of laws in taxation (LL.M).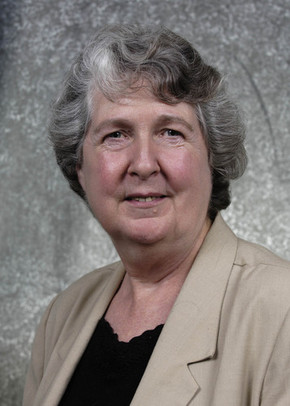 After graduating from Temple and passing the Pennsylvania bar exam, she went to a very small law practice and began teaching business law and real estate at LaSalle University in Philadephia.
"I've always done both," she said. "I've always both practiced law and taught at the university level."
It was at LaSalle University that she found her interest in real estate that led her to pursue a real estate broker's license and open a real estate office when she came to Indiana.
"I started teaching real estate at LaSalle because they needed someone to teach it," she said. "I really liked it."
Now in her thirty-fifth year of teaching at IUP, Troxell, one of three law faculty, primarily teaches the Legal Environment of Business and real estate classes. Her teaching philosophy focuses both on the process and the letter of the law.
"I really think the legal process is the important thing because you can always look up the law," she said. "Law changes but the legal process pretty much stays the same. As long as you understand the process, you can always go back and find the law."
Around her office in 322E Eberly are pictures from a Florida State Park, Promised Land State Park in Eastern Pennsylvania, and postcards from Seattle, Mount Rainer, and Scotland. A small globe hangs from the wall and is joined by a picture of the Earth from space.
She is also a licensed pilot since 1985, and at one point taught an aeropace workshop at IUP for ten years. The class included trips to the Air and Space Museum in Washington, D.C., and flight time in hot air balloons, gliders, helicopters, and others.
"It was a cool course," she said. "The U.S. space program was a really big deal back in 1985-1996. Some students from this course went on to aviation and became commercial pilots and aeronautical engineers."
Troxell recently worked on a specialty court study with Dr. Frenzel, of the Criminology Department, for the Center for Rural Pennsylvania. They have been invited to the board meeting to present their study.
"An interesting part of the study was I got to talk to just about all forty-eight rural counties," she said. "I visited about 80 percent of the specialty courts and talked with judges, court personnel, and specialty court coordinators. I was all over the state. I loved it."
The study was finalized in the spring of 2011 and is the most recent academic work Troxell has been involved with.
A pilot, a traveler, a professor, and an academic, Dr. Martha Troxell continues to do the things she loves.
By Alycia King