Professor Maali Ashamalla
She's from the world. She was born, raised and partially educated in Egypt, lives and works in the United States, and has travelled to about 44 countries.
Dr. Maali Ashamalla, of the Management Department, holds three master's degrees in different areas of management. The first, from Ain-Shams University, Egypt; the second from Baruch College, New York; and the third from the Graduate School of CUNY, where she also obtained her doctorate in business administration.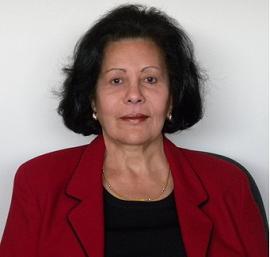 Her road to teaching began when she graduated with a bachelor's in commerce from Ain-Shams University, the second oldest and largest university in the country. Because she was at the top of her class, she was hired as a lecturer at the university.
"I started teaching at a young age," Ashamalla said. "I found in teaching something enjoyable and fulfilling."
During her teaching career, she has taught in several universities in the United States and overseas. Ashamalla found her way to IUP while she was living in Manhattan, New York, and commuting to Montclair State University in New Jersey. In 1992, she made the move to Indiana for a change to a quieter setting.
More than a decade into her teaching career at IUP, she was granted a Senior Fulbright Award in 2004, which took her back to Egypt. She spent about six months at Alexandria University, where her Fulbright assignment included seminars to junior faculty at the business school, lectures in the MBA program, and management skills training workshops to some civil service managers. She also initiated an exchange program between Alexandria Business School and the Eberly College, which was finalized and signed by Dean Robert Camp later in Alexandria. Unfortunately, the program has not yet been activated because of the political situation in Egypt.
But Ashamalla's international experience extends beyond Egypt. As an international management consultant to some global service organizations, she did extensive management consultancy in more than 30 countries. Her main areas of work included strategic management and management training and development. "For consultancy as well as for vacationing, I traveled to the four corners of the world," she said.
She means that in the literal sense. She has done international work and traveled in North America, Central America, Europe, the Middle East, Russia, Africa, and South and East Asia.
Back at IUP, where Ashamalla has taught for 20 years, she has published 13 referred journal articles and four book chapters and presented 46 papers in academic conferences. Her main areas of research include women in management, international human resource management, strategic management, and methods for teaching and training in the management field.
She developed and published three methods, which she applies in her classes and also in her management training and development workshops in work organizations.
"I use an interactive teaching approach," Ashamalla said, "because I strongly believe in having students as active participants in the learning process rather than passive listeners to a lecture. That is, involvement rather than spoon feeding."
She received a university award for teaching excellence in 1998 and two awards from Eberly in 1997 and 1999. She also has been awarded seven small grants for research and a couple of best paper awards for conference presentations.
In her free time, she enjoys traveling and reading history and spiritual books.
By Alycia King