Professor John Orife
Students will never see Dr. John Orife in the classroom in anything but a suit because he takes it upon himself to be a role model of what it is like in the business world.
The Management professor does not deny that he sets high standards for his students, but views it as his way of making sure students are prepared for whatever life throws at them after college.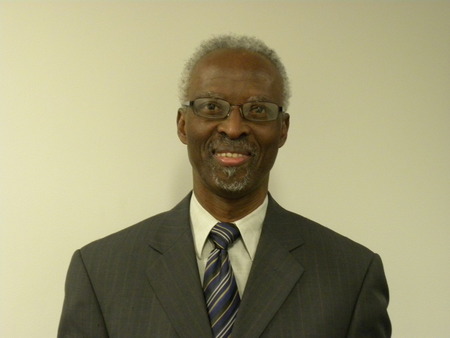 "I am preparing you so that you can compete, toe-to-toe with those guys who went to brand-name colleges," Orife said.
With three academic degrees in business, a bachelor's from the University of Nigeria and a master's and doctorate from Michigan State University, Orife brings experience to the table and even created a class for the department on organizational staffing, which is his favorite class to teach.
The teaching journey began for him in his home country of Nigeria, during his years as an undergraduate when his university sponsored him to pursue his graduate degree in America.
"That's where the seeds were sown," he said. "When I went to college, I wasn't thinking about going to teach. I was thinking about going to work in business and making plenty of money. And then things changed."
But before he could finish his master's degree at Michigan State, a civil war broke out in Nigeria, which made him stay in the United States, where he continued his schooling. After finishing his master's in one year, he moved on to the doctoral program, which he says took him longer than he expected.
Orife has been with IUP since the summer of 1989, which means this summer he will have been teaching at IUP for 23 years. During this time he has served as the Management Department's chairperson and earned both service and teaching awards. He also has published a few journal articles but does not call himself a publishing giant.
When he isn't in the classroom or office, Orife travels and enjoys time being a grandfather. The father of four has four grandchildren and counting. "I have one in San Francisco, three in Pittsburgh," he said. "We're expecting one in China in the summer."
Though his high standards might seem harsh to some current students, Orife received a note about ten years ago from a former student thanking him for preparing him for life after IUP.
"That's why I do things the way I do them," he said. "I set high standards, and I expect the students to meet the high standards. That's how they get ready to compete on the outside with people who went to other places that have more name recognition. The student is my work-in-progress' and I want to be sure the finished product' meets or exceeds the expectations of the customer."
By - Alycia King