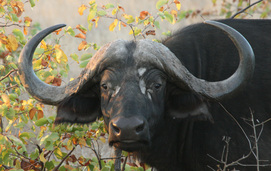 The Department of Biology at Indiana University of Pennsylvania offers both undergraduate and graduate courses in Southern Africa during the summer.

Courses will begin in mid to late July and end in early Augustthe best time for game viewing in the Southern Hemisphere's late winter season.

Biology majors, or those students with an interest in biology, may enroll in BIOL 490 Field Studies in Biology, an upper-division class that counts as a free elective or as a major elective toward the B.A., B.S., or minor in Biology at IUP. Students who are not Biology majors are eligible to enroll in BIOL 490, with permission of the instructor. With the director's approval, this course may be applied to the Pan-African Studies minor at IUP as well. Graduate students may enroll in BIOL 590, which is the master's-level equivalent of BIOL 490. Students who do not wish credit toward the Biology major or minor at IUP may enroll in BIOL 281 Special Topics: The Diversity of Southern Africa.

This course counts as a free elective, and it has also been approved to count as a Liberal Studies non-lab science course under Option II of the IUP Liberal Studies graduation requirements. There are no pre-requisites for BIOL 281. Students may elect an audit grade option for this course. Although all the courses have Biology titles and emphasize the plants and animals in various parts of Southern Africa, they are entirely appropriate for students in other disciplines such as anthropology, sociology, political science, or history.

All students who enroll in the course will spend two to three weeks traveling primarily in the Republic of South Africa, although the class may visit other nations as well. Students will interact with many of the people of Southern Africaindividuals of European, Indian, or African descentin a variety of settings from urban, cosmopolitan Cape Town to a working safari lodge in the bush country of Limpopo Province. Students will observe the dynamic multicultural society of Southern Africa and gain an appreciation for its history and politics as the region moves through a period of significant transition. There will be multiple opportunities for observation of wildlife in national parks or in other settings, and, if we are lucky, we'll see each of Africa's famed Big Five animals. Students can expect an up-close and personal encounter with the amazing diversity of Southern Africa in all its dimensions.

Visit the website for this course.

For more information contact:

Dr. Carl Luciano
Luciano@iup.edu
724-357-4462