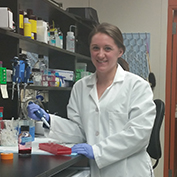 The Department of Biology has an active internship program, and we encourage all of our students to consider this option.
Internships are arguably the most valuable experience that we can offer to our majors. Experiential education enhances our students' knowledge, skills, and abilities, and allows them to increase professional competence in a real-world setting.
Interns are only placed in sites that meet academic institution standards and are willing and able to provide hands-on experiences and develop activities/projects where interns can apply scientific principles. Because of the successful performance of our student interns, we have forged many partnerships with excellent internship sites.
Where Do Biology Students Intern?
Check out the list of companies where biology students have completed internships.
Important : An Internship Agreement form must be completed before you start your internship. Give the explanation letter to your internship supervisor along with the Internship Agreement form. 
Face-To-Face Learning Risk Consideration Form
Internship Approval Form
Internship Syllabus
For more information on internships, contact the internship coordinator:
N. Bharathan
Weyandt Hall, Room 114
724-357-2584
bharathn@iup.edu