ArtsPath at Indiana University of Pennsylvania is pleased to announce its 2023 regional Poetry Out Loud winner.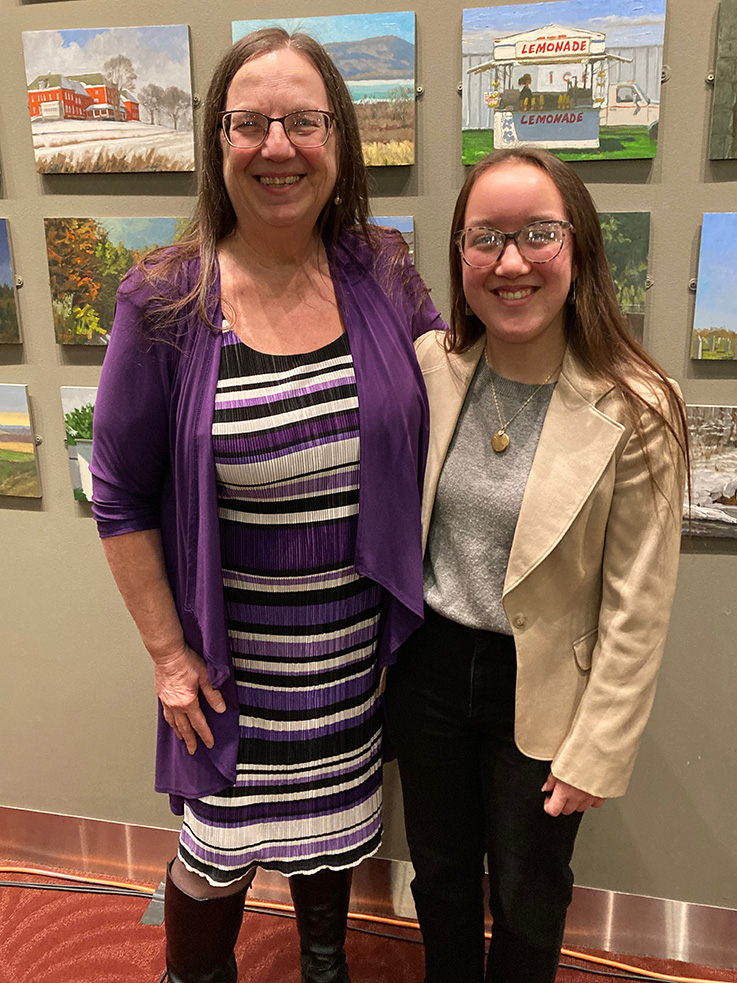 Julia Wirths, a senior at DuBois Area Senior High school and in her last year of eligibility, becomes the only four-time and multiple-year champion for ArtsPath. At DASHS, Julia is involved in Drama Club/International Thespian Society, Concert Choir, National Honor Society, Book Club, National Society of High School Scholars, cross country, Mock Trial, PEP, Dynamics, Select Choir, and Ski Club.  The lead teacher for the Poetry Out Loud program at DuBois HS is Dorothea Hackett.
Julia's three memorized recitations were Infelix by Adah Isaacs Menken, A Litany for Survival by Audre Lorde, and Object Lesson by Claire Schwartz.
The two other contestants were Matthew Campbell, a junior from the Kiski School who recited 1969 by Alex Dimitrov, The Collar by George Herbert, and Famous by Naomi Shihab Nye; and Maura Knepper, a senior from Indiana Area High School who recited A Fixed Idea by Amy Lowell, Dirge Without Music by Edna St. Vincent Millay, and No Coward Soul Is Mine by Emily Brontë.
Interpretation judges included Gretchen Barbor, a retired high school English/theater teacher; Kate Geiger, director of the Indiana Free Library; Matthew Vetter, associate professor of English at IUP; Daniel Weinstein, also associate professor of English at IUP; and Michael Williamson, professor of English at IUP. The Accuracy judge was Carrie Bishop, the Access and Media Services librarian and associate professor at IUP Libraries; and the prompter was Micaylee DeHaven, a first-year undergraduate student studying literature and culture at IUP.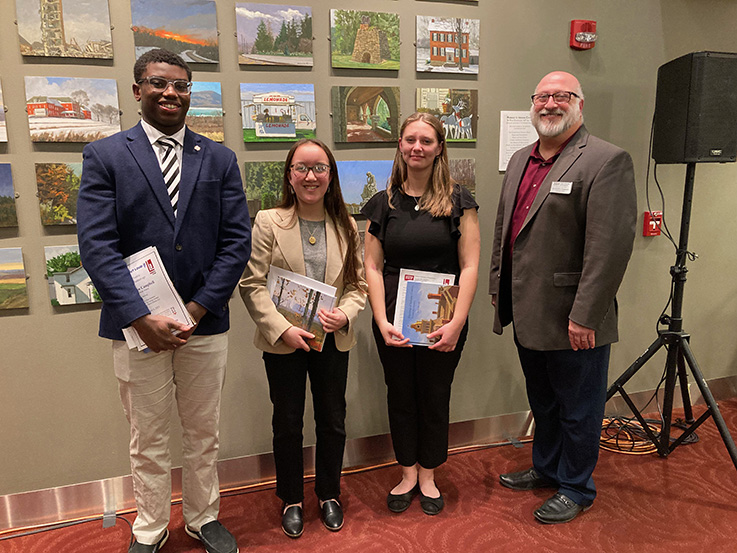 Providing music on piano before and after the competition, as well as between recitations, was IUP student Lily Carone, a biology major and music minor.
Julia will next compete in the Pennsylvania state competition, being held by the Pennsylvania Council on the Arts, through virtual video submission, with the winner being announced March 13 on FaceBook by the PCA.  She is also the 2022 state runner-up.
Poetry Out Loud is a national arts education program that encourages the study of great poetry by offering free educational materials and a dynamic recitation competition for high school students across the country. This program helps students master public speaking skills, build self-confidence, and learn about literary history and contemporary life. Poetry Out Loud is a partnership of the National Endowment for the Arts, the Poetry Foundation, and the state and jurisdictional arts agencies.
Since its inception in 2005 by the National Endowment for the Arts and the Poetry Foundation, Poetry Out Loud has grown to reach more than 4.1 million students and 68,000 teachers from 17,000 schools and organizations in every state, American Samoa, the District of Columbia, Guam, Puerto Rico, and the US Virgin Islands.
ArtsPath is one of 14 regional arts-in-education programs that, in addition to presenting the Poetry Out Loud program, partner with the Pennsylvania Council on the Arts in placing high-quality, professionally active visual, performing, media, and literary artists in educational and community settings for extended, in-depth residency activities. The ArtsPath service region includes Armstrong, Butler, Clarion, Indiana, and Jefferson counties, as well as the Dubois Area School District for Poetry Out Loud.
For more on artist residencies, Poetry Out Loud, or other arts-related services, contact the coordinator for Arts-in-Education Services, Jeff Wacker, at jwacker@iup.edu, or call 724-357-4565.
ArtsPath and Poetry Out Loud are made possible through the AIE Partnership of the Pennsylvania Council on the Arts, a state agency. It is funded by the citizens of Pennsylvania through an annual legislative appropriation and administered locally by ArtsPath through the College of Arts and Humanities at Indiana University of Pennsylvania.