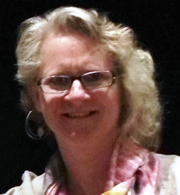 Longtime ArtsPath Teaching Artist Sandy Trimble recently completed her third residency at the Foundry in Reynoldsville, one of four senior centers in the county under the Jefferson County Area Agency on Aging.
While the participating seniors worked on different projects for each residency, the primary goal of all three residencies was for them to simplybe more active, both physically and mentally. Additionally, the residencies were designed to help them develop their creative problem-solving skills by thinking more creatively about the possibilities offered by what they're learning, and combining that with what they already know.
As a fiber artist, Sandy works in a variety of mediums to include wet and dry felting, weaving, and Shibori. This latest residency focused on the latter, with the participants learning about Shibori as it relates to Japanese culture and its relationship to nature, as well as the many resist techniques, cold and hot water dye techniques, and the use of Mokume sewing technique to create complex shapes.
In addition to their own personal projects, the participating ladies worked together to create the quilt pictured in this article, which will hang in the Foundry for a period of time before being auctioned as a fund-raiser for the center.
"The partnership that we've developed with ArtsPath over the past two to three years has been such a blessing and benefit to our seniors," said JCAAA Director Peter Spuck. "It's been amazing to watch their creativity blossom in working with such as amazing professional artist like Sandy."
According to Trimble, "This is a wonderful group of ladies who are already pretty creative and crafty,' so I was really able to challenge them with ideas and techniques that were completely new to them, and then enjoy watching them learn, grow, and gain even more confidence in their artistic abilities."
These three residencies in Reynoldsville at the Foundry have been so successful that Spuck has already reserved the necessary match funding for a residency next year, as well as one for the center in Brookville.
"The Arts have proven themselves invaluable to our society not only during the difficulties of the past year, but consistently throughout time as they provide beauty and satisfaction in their creation and enjoyment. We're really thrilled to be able to partner with ArtsPath to improve our seniors quality of life," he said.
Next up for Trimble? A community-based residency right in Indiana where she will team up with a second fiber artist, papermaker Katy DeMent, as they combine their weaving and papermaking talents to bring participants together in the creation of public piece of art. More information on how community members can participate will be shared later in May and in June. Interested individuals may also email Sandy at sandye60@gmail.com, or ArtsPath Director Jeff Wacker at jwacker@iup.edu.

ArtsPath at IUP is one of 14 organizations in the state that partner with the Pennsylvania Council on the Arts to present arts services, primarily artist residencies, in their its assigned geographic region. For ArtsPath, this includes Armstrong, Butler, Clarion, Indiana, and Jefferson counties.
This senior center residency at the Foundry in Reynoldsville was supported in part by the Pennsylvania Council on the Arts, a state agency funded by the Commonwealth of Pennsylvania; and the National Endowment for the Arts, a federal agency.
For moreinformation on ArtsPath and artist residencies, contact Jeff Wacker at 724-357-4565 or at jwacker@iup.edu.