Free Artist Residency Offered Through ArtsPath
Posted on 5/28/20 5:44 PM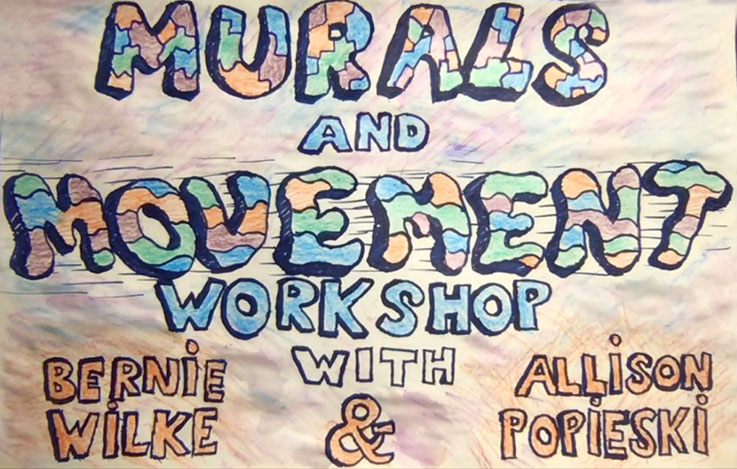 A free online artist residency with painter and muralist Bernie Wilke and Allison Popieski, the arts-in-education manager for Pittsburgh's Attack Theatre, is being offered through ArtsPath at Indiana University of Pennsylvania.
This 12-session asynchronous residency workshop will begin with its first uploaded video on Monday, June 1, and go through the end of July.
Due to the COVID-19 pandemic, artists activities throughout the nation have been severely curtailed, including artist residencies in schools and communities. But in quarantine mode, and as a society, we have certainly discovered the importance of the arts in our lives!
Like so many artists across Pennsylvania and the nation, Bernie and Allison have worked hard to transition their world of art to an online format. The result for this residency is a 12-session, asynchronous online experience that combines movement and painting in the creation of a future mural. You can watch Bernie's short Introduction Video to "meet" him and hear a little more about the experience.
The official six goals of the residency are to:
Find meaning and connection through story and creative writing.
Merge visual art and movement in creative, purposeful ways and discover how different art forms can inform each other and flow together.
Establish connections with students in other places through a shared projecta dance mural in the form of a video that features movement in relation to the collaborative 2D mural.
Gain a multifaceted understanding of curriculum material by engaging with different artistic media.
Develop literacy in the connection of art and ideas through a real-world application that contributes to student learning and growth while building understanding of community.
Engage in a collaborative, peer-driven mural project that contributes to the personal growth of students by fostering healthy ways of self-expression and group expression, connection to the larger community, emotional resilience, and confidence.
The residency is standards-based, includes twenty-first-century skills, and is targeted at students grades 7-12. However, parents, teachers, and anyone interested in the arts and the experience can participate due to the asynchronous format, and are certainly encourage to do so. And while it's anticipated that the majority of participants will be in Western Pennsylvania, and likely in the counties that ArtsPath servicesArmstrong, Butler, Clarion, Indiana, and Jeffersonbecause of the format, anyone can join in the creative fun!

The plan calls for a video to be posted each Monday for the first four to six weeks, after which two per week will be posted. Participants simply need a reliable internet connection; the ability to take video, share photos, and download and upload images (a cell phone would suffice); and some basic art materials such as paper, pencils, crayons, acrylic paint, and brushes. Not all items just listed would be needed; everyone will be able to use what they have on hand.
So, as you're looking for end-of-school and summer activities that are fun and creative, but not too "online-intense," and fit a flexible schedule, this will be the perfect fit.
For more details, information, and questions, email Bernie at bwilke.art@gmail.com, or Allison at allison@attacktheatre.com.
ArtsPath is the Arts-in-Education program of the Lively Arts at Indiana University of Pennsylvania, and is directed by its coordinator for arts-in-education services, Jeff Wacker (jwacker@iup.edu). ArtsPath and this online residency project is supported by the Pennsylvania Council on the Arts, a state agency funded by the Commonwealth of Pennsylvania, and the National Endowment for the Arts, a federal agency.