Residency Forms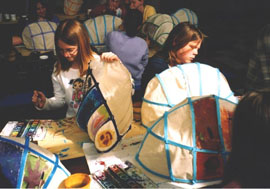 The following is a list of forms needed for an ArtsPath residency.
The Residency Request Form will help to get you started and will reserve your residency funding. While not required, we encourage you to take the time to submit this form to reserve the funds you will need. When you are ready to sit down with ArtsPath and the artist, we will help you to plan your residency and complete the required Residency Planning Form
Residency Request Form:
Residency Planning Form:
Partner Observation online survey All evaluation forms must be turned in upon the completion of the residency. In order to continue providing effective residencies, it is important that we receive feedback from all the individuals who have been involved in the residency. These evaluations are important tools that assist us in understanding what went well with the residency and where there is room for improvement. In addition to the active participants, we include a form for the parents' feedback. You may be surprised to hear about the great things students tell their parents about what they have learned through an artist residency.
Host Site Evaluation Form
To be completed by the site coordinator(s) and the site administrator. When completing the evaluation, host site coordinators and administrators are encouraged to collaborate with all individuals involved in the artist residency. Evaluations are shared with the artist.
Teaching Artist Evaluation Form
Artist Observation Evaluation Form
Student Evaluation Form
ArtsPath recommends and encourages all core group students/participants involved to complete an evaluation form. Host site coordinators should return completed forms to ArtsPath at the conclusion of the artist residency.
Residency Evaluations
By completing the appropriate surveys as accurately as possible, you are contributing critical information about the importance of arts education and the significant value it has as a core learning experience for all students.This information is of vital interest to us and the Pennsylvania Council on the Arts. Please take the time to complete fully and return as soon as possible.
Please return form/s to:
Jeff Wacker, Arts-in-Education Services Coordinator
Lively Arts at IUP
202 Performing Arts Center
403 S. 11th Street
Indiana, PA 15705-1008
or fax to: 724-357-7899