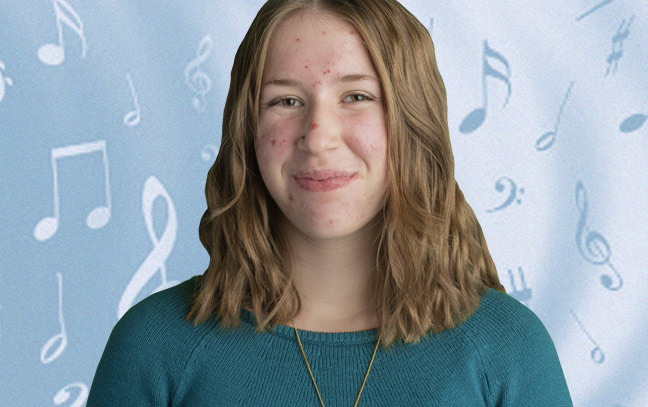 Study What You Love as a Musical Theatre Major
If you have a passion for theatre and a talent for the performing arts, the BA in Musical Theatre program at IUP is your match.
In your time at IUP, you'll build your craft as an actor, singer, and dancer. Our community will both support and stretch you, challenging you to become a unique artist. You'll leave with skills you can readily apply after graduation—no matter what stage you're on.
Build your movement skills, whether you're a beginner or an advanced dancer.
Develop acting techniques appropriate to the heightened style of musical theatre.
Join our professionally-modeled theatre company starting your very first semester, with four productions each year, plus many more opportunities for student-led creative expression.
Study with full-time vocal professors.
Thrive in a welcoming, accessible environment with up-to-date facilities.
IUP has been producing and teaching musical theatre for more than fifty years and has been accredited by the National Association of Schools of Theatre since 1995.
Admission to this track is by audition.
What You'll Learn
The BA in Musical Theatre program at IUP is a distinctively flexible degree. You'll learn at the exciting intersection of three creative disciplines—theatre, dance, and music—with help from peer mentors, dedicated full-time resident faculty, and our alumni network.
In addition to your talents as a creative performer, the skills you'll gain as a BA in Musical Theatre major translate to employment inside and outside of the performing arts.
Collaboration: a practice of working together to achieve a common goal.
Communication: conveying ideas clearly and with empathy.
Creativity: a practice of thinking beyond your walls.
Critical Thinking: working through problems and verifying truth.
Imagine Your Future
A BA in Musical Theatre from IUP will prepare you to create your work in ensemble—whatever your life's "stage" will be. If you're destined for a career in the performing arts, you'll be well prepared for further professional training or graduate school. If you are destined for other creative industries, you'll have skills of creativity and collaboration that set you ahead of the pack.
Career Opportunities
Actor
Actor-Musician
Cabaret Artist
Choreographer
Dance Captain
Dancer
Designer
Director
Music Director
Singer
Writer
With a BA in Musical Theatre, you'll also be prepared for a multitude of careers in related fields that value your collaborative and performative abilities. Picture yourself as a:
Creative professional and skilled team player, working in game development or art direction.
Leader in a professional discipline, building on your training to become an attorney, speech-language pathologist, early childhood educator, counselor or therapist, corporate trainer, or museum or center director.
Teaching artist, artist-in-residence, or community leader, building engagement by using your theatre skills.
Classes and Requirements
Study what you love as you major in the BA in Musical Theatre program. Beginning your first semester, you'll build a foundation of knowledge and performance skills. Along the way, you'll have the flexibility to pursue courses that align with your passions, talents, and career goals.
Years One and Two: Learn a foundation of historical and analytic knowledge, combined with the core skills of theatre-making in ensemble. Take individual voice lessons in the studio with full-time music professors; enroll in a progression of acting classes to create characters in various styles and genres; and immerse yourself in ballet, jazz, and tap courses as you develop your movement skills.
Years Three and Four: Deepen your practices, develop your repertoire, and expand your horizons with electives, such as Shakespeare or various acting styles.
Senior Thesis: In your junior year Theatre Seminar course, you'll create a career development plan, network with successful alumni, and conceive your senior thesis project. Guided by your faculty supervisor, your thesis is the capstone marking the successful completion of your degree.
Full Academic Catalog Listing
The course catalog is the official reference for all our degree and course offerings. Check it out for a full listing of the classes available and requirements for this degree.
Alumni
Alumni are successful, following a variety of career pathways.
Performing artists–ensemble companies and directors, individual commercial artists on live stage and media, drag artists
Production artists–designers, technical directors, stage managers, costumers, tour managers
Teaching artists–artists in residence, teachers, community
Allied creative industries–game development, art direction
Professional disciplines–attorney, speech-language pathology, counseling and therapy, museum and center directors, hospitality managers, training directors, production managers
Get Hands-On Creative Experience
Here at IUP, the theatre is your laboratory. There's no shortage of hands-on ways to learn and test your creative skills.
Join theatre and dance productions—there are four fully realized productions every year—through IUP's professionally-modeled ensembles: Theater-by-the-Grove and IUP Dance Theatre. Strengthen your performance and communication skills as you create characters and collaborate with your castmates, or work behind the scenes as a stage manager. Interested in theatre for social change? Join the Simulation Performance and Applied Theatre Ensemble (SPATE) and positively impact the world as a teaching artist.
If you have a story, we want to see it on stage. You could write and produce your work in the Acorn Project, an incubator for student-produced and directed theatre.
Go on to Graduate School
The BA in Musical Theatre program is perfect preparation for continuing your studies. Possible pathways include:
MA in Film or Film Production
MA in Musical Theatre Studies
MA in Theatre Education
MA in Theatre Theory and Dramaturgy
MA in Musical Theatre Studies
MA or MFA in Performance Studies
MFA in Acting
MFA in Directing
MFA in Musical Theatre
MFA in Musical Theatre Collaboration
MFA in Musical Theatre Writing
MM in Musical Theatre
Facts to Know
Here are a few reasons why you can feel good about choosing IUP's BA in Musical Theatre program.
Full accreditation by the National Association of Schools of Theatre since 1995.
Individualized support for every new student. You'll be paired with a student mentor and a full-time faculty advisor in your interest area.
Perform starting your first semester. There are four main stage productions and six student-written productions every year, plus opportunities to display your talents at the annual Kennedy Center American College Theatre Festival, a regional showcase.
Theatre for Everyone
You don't have to be a part of the BA in Musical Theatre program to join an IUP production. Get involved—with Theater-by-the-Grove or IUP Dance Theater—through Crimson Connect, our online student engagement platform.
Minor in Theatre
Add a Theatre Minor program to your studies at IUP, and you'll gain skills that will set you apart in a range of careers, whether you're an aspiring teacher, business leader, or media production professional.
A flexible pathway, customized to your interests
18 credits
Requires involvement with productions through practicum courses
Full Academic Catalog Listing
The course catalog is the official reference for all our degree and course offerings. Check it out for a full listing of the classes available and requirements for this degree.
Alpha Psi Omega Honorary Society
Reach for high honors. IUP is home to the student-led Nu Omicron chapter of Alpha Psi Omega, a national honorary society for theatre. Each year, membership extends invitations to students who have achieved a high level of engagement in theatre production at IUP. APO serves IUP's Theater-by-the-Grove by providing concessions, hosting opening receptions, and producing the department picnic.