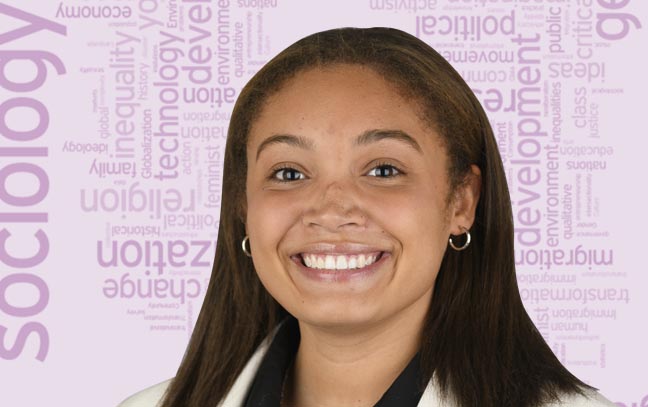 Make an Impact and Improve the Greater Social Good
Please note that this program is currently not accepting applications. Check back for potential future enrollment terms or visit our program list to see what other options are available.
You aspire to be both a scholar exploring how to bring about a better society and a working professional ready to roll up your sleeves and advocate for social justice.
The Sociology, MA, program is designed for people like you, who want more out of their career and the opportunity to contribute to the greater social good. In this program, you'll refine your skills in critical thinking, problem-solving, and working with diverse groups of people. You'll be ready to help address society's most pressing issues and challenges.
Your coursework will focus on mastering sociological theories, methods, and analysis. During the program, you'll benefit from dedicated faculty who are ready to:
Assist you with research topics and skills
Develop your professional and social networks
Mentor and advise you as you advance in your work
The Sociology, MA, is a 37-credit program offered through evening-only classes.
Imagine Your Future
With a degree in sociology, you have many options for pursing your career goals, across many fields and industries. After graduating, you will be ready to pursue opportunities in areas including the following.
If you want to continue your formal education, you will be prepared to pursue a doctoral degree.
Advocacy
Community developer
Consultant
Counselor
Criminologist
Demographer
Director for drug safety operations
Educator
Gerontologist
Human resource manager
Program manager
Practicing sociologist
Research analyst
Statistician
Survey researcher
Therapist
University professor
Urban planner
Full Academic Catalog Listing
The course catalog is the official reference for all our degree and course offerings. Check it out for a full listing of the classes available and requirements for this degree.
Opportunities for Graduate Students
Sociology graduate students can engage in activities outside of the classroom that enhance their area of expertise.
Founded in 1988, MARTI is among the first institutes in the country to utilize the expertise of treatment programs and a university to provide high-quality training in the fields of chemical dependency and associated problems. The institute also develops and coordinates intramural and extramural research projects while providing research and training experience for graduate students entering the field.
This applied, interdisciplinary center supports sponsored research, program evaluation, policy analysis, technology transfer, and training. The Administration and Leadership Studies Research and Training Center promotes interdisciplinary studies on specific themes and develops contacts among researchers across geographical areas to foster an exchange of information and to encourage the development of research and training.
About Our Faculty
Our sociology faculty members have a proven ability to prepare you for leadership in the workplace and success at the graduate level. They welcome the opportunity to collaborate with you on research projects, and each professor exhibits a special skill for mentorship.
Our professors remain engaged with students at every level of study. Furthermore, they often cite talented graduate students as one reason for choosing to teach at IUP.

Your professors have experience in publishing, research, and real-world experience to guide you to your highest purpose.

Supportive faculty members enrich your graduate experience by mentoring you outside the classroom on topics such as professional socialization, developing research agendas, and dissemination of findings.

Your graduate dreams begin at the master's level with professors who are eager to help you launch to the next level.