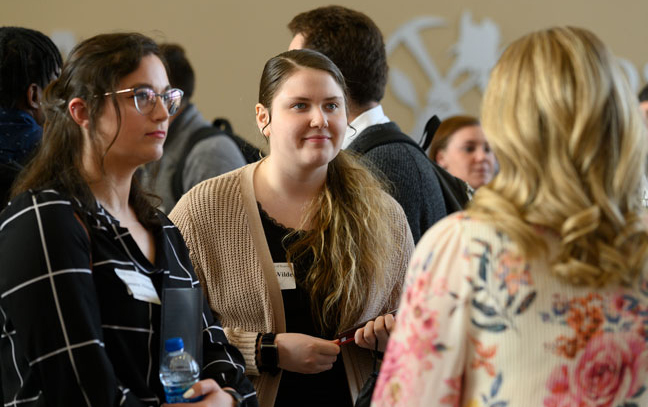 Help Shape the Lives of College Students
Your time in college changed your life and you want others to have the same great experience. A career in student affairs will get you there. While you're working on your Master's degree in Student Affairs in Higher Education at IUP, you'll be learning how to help shape the lives of students as they prepare for their own careers.
IUP's highly valued MA in Student Affairs in Higher Education program is one of the most highly regarded student affairs graduate programs in the country.
The program will prepare you to work in higher education as a student affairs practitioner. With our helpful faculty, you'll gain the knowledge and experience to step into the field and make an immediate impact.
As an IUP SAHE graduate, you'll thrive in student affairs because our program emphasizes:
Ethical and professional behavior.
Practical, hands-on experiences in student affairs' offices and departments.
Rigorous instruction about the key principles, theories and practices of student affairs.
Experience in the Real World
Student affairs is about building relationships, so working with college students who were like you is a crucial part of your MA program. At IUP, we blend work in the classroom with hands-on training. You can get a graduate assistantship and up to three 150-hour practicums on the IUP main campus or another local college or university.
Imagine Your Future
Trained and caring student affairs practitioners are in high demand. Recent IUP SAHE graduates are employed at colleges and universities across the country and as you can see from the statistic below, almost all our graduates find work right after graduating.
Career Opportunities in Student Affairs
While most graduates of SAHE find employment on a college or university campus, a Master's degree in SAHE can lead to jobs in other areas of higher education such as a national office for a fraternity or sorority, state system higher education office, commercial vendors that work with higher education institutions, or higher education professional association offices.
Academic advisor
Admissions counselor
Career Development advisor
Financial Aid advisor
Fraternity and Sorority Life advisor
International Education coordinator
Multicultural Affairs program coordinator
Orientation program coordinator
Residence Hall Director
Student Activities coordinator
Student Conduct coordinator
Employment in the Field
Graduates find employment within 3 months of graduation
Commonwealth of Pennsylvania
Classes and Requirements
As a graduate student in the MA in Student Affairs in Higher Education program at IUP, you'll learn theories and best practices of college student affairs. Student affairs is an applied field, and these courses will give you a solid foundation to do your best work.
The SAHE curriculum aligns with professional competency guidelines established by ACPA and NASPA, the leading student affairs professional organizations in the US.
What You'll Study
The SAHE two-year curriculum focuses on the foundations the first year and the practice the second year. Your classes will cover:
The history and philosophy of student affairs
Theories of college student development and campus environments 
Skills and techniques for helping others learn, grow, and develop
Research and assessment strategies
Profiles of college students
Organizational management theory and practice
The MA program is a minimum of 42 credits, including the SAHE learning portfolio. You'll also have the option to write a thesis in place of six hours of approved electives.
Full Academic Catalog Listing
The course catalog is the official reference for all our degree and course offerings. Check it out for a full listing of the classes available and requirements for this degree.
SAHE Department Statement on Diversity and Racial Justice
The SAHE Department is committed to creating and maintaining a diverse, inclusive, and socially just learning environment for our students and faculty. As we observe deeply rooted and pervasive acts of white supremacy and systemic racism, particularly anti-Black racism, we affirm that it is our individual and collective responsibility to draw upon our life experiences, our interactions with one another, and our education (both inside and outside the classroom) as sources of awareness, knowledge, and skills. We are committed, as individual faculty and students, to continue to expand our own multicultural awareness, knowledge, and skills in this important area and to take meaningful and transformative action toward change.
Build Your Professional Network with Your Cohort
You won't be alone in your time here at IUP. The MA in SAHE program is built around your cohort: all full-time students who start the program at the same time, take most classes as a group, and will graduate together.
A cohort is a community of like-minded yet diverse learners who by the end, will be your life-long friends and colleagues. A typical SAHE cohort includes graduates from private and public colleges and universities, from across the country. Some students start graduate school right out of their undergraduate experience, while others have worked for several years.
Everyone is here for the same thing—to help transform the lives of other students as they go forward in their careers in student affairs.
Foster Growth with Associates of Student Development (ASD)
The Associates of Student Development (ASD) is a departmental organization of SAHE graduate students who promote professional development opportunities. ASD plans social activities and programs and offers ways to build mentor relationships with alumni and current professionals.
Let Our Faculty Help Guide Your Career Path
Our SAHE faculty are nationally recognized leaders and scholars, with years of experience as student affairs practitioners. Like you, they care about students having a successful college experience.
Our faculty have:
More than 100 publications in top journals and books in topics like legal issues, multicultural competence, and learning communities.
Received some of the most prestigious awards from student affairs professional associations in recognition of their scholarship, leadership, service, and teaching.
Significant student affairs involvement on national, regional, and local levels.
Practice What You Learn
There are so many advantages to studying at IUP. One of them is that you can take the principles you're learning in the classroom and make a difference now. One of the best ways is through a graduate assistantship.
More than 90% of SAHE students have graduate assistantships at IUP or neighboring institutions around Pennsylvania like Saint Vincent College, Seton Hill University, and the University of Pittsburgh campuses in Greensburg and Johnstown.
IUP awards assistantships based on relevant undergraduate experiences, practitioner recommendations, and interviews. Once you're accepted in the SAHE program and qualify for an assistantship, you'll be invited to the Prospective Student Visitation and Assistantship Interview sessions.
In addition to graduate assistantships, students also participate in two or three 150-hour supervised practicums at regional and national colleges and universities. Practicums allow you to learn about a wide range of student affairs functional areas or deepen your experience in a specific area.
Our Alumni Strengthen the Program
More than 1,100 alumni over five decades are now employed across the country, as coordinators, vice presidents, and faculty—and everything in between.
SAHE alumni want to help. They mentor students like you, and are happy to connect you to professional development and job opportunities. And they're proud of the MA in SAHE program—over half of SAHE students were referred by IUP alumni.
Earn a Certificate in Academic Advising
Being an academic advisor can be a game-changer for students needing guidance on the best path toward their degree. While pursuing your master's degree, you also can complete the Certificate in Academic Advising.
The certificate:
Can be completed in just 12 credit hours, with some classes offered online and others on campus and either full time or part time.
Provides the theory, practice, and hands-on training in academic advising for college students.
Students not in the MA in SAHE program can also complete the Certificate in Academic Advising program.
Learn More about the Academic Advising Certificate