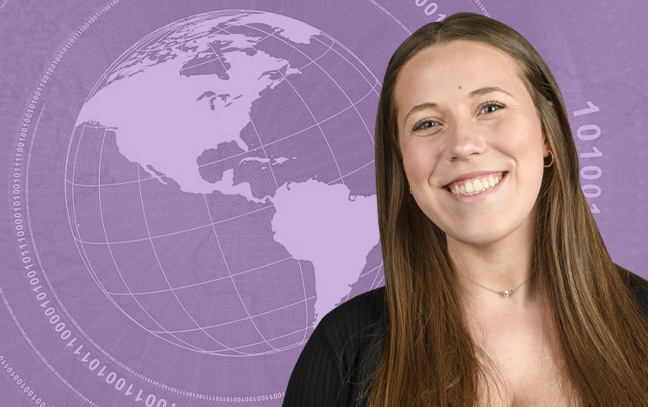 Take the International Business World by Storm
If you have your eye on a career that can take you around the world, a BS in International Business is the way to go. As a professional in the international business field, you'll help companies understand the global economy and how politics play a part in our international market. You'll develop resources for companies to stay competitive, track business trends around the world, and look for business opportunities abroad.  
With a BS in International Business, you'll be in high demand. The opportunities for leaders with international business knowledge and experience have increased. With your IUP education, you could soon be traveling to exciting countries, and making an impact across continents. 
Why Major in International Business at IUP?
At IUP, you'll sharpen the skills needed to be a leader in international business. You'll learn new ideas and become a citizen of the world through our cultural programs, including the option to travel through the semester-long study abroad program. You'll have the opportunity to study both business and culture at a variety of international schools, including in Asia, Central and South America, Australia, Africa, and Europe.
What You'll Learn
You'll learn the basics of business—and then you'll take your knowledge global with classes in international economics, international business, international management, and other functional areas of business. Your courses will help you:
Develop skills in a traditional field like finance, human resources, or marketing
Learn in-demand languages such as German, French, Spanish, Chinese, Japanese, or Arabic
Understand how to manage global operations in today's business world
Imagine Your Future
Career Opportunities in International Business
A BS degree in International Business will give you an edge on the job market—not to mention that you'll qualify for jobs with high-paying salaries and great benefits. 
As a new graduate, you'll be trained for all kinds of jobs, including:
Administrative management
Corporate roles within retail giants
Operations management
Supply chain management for global corporations
Global Human Resource Management
Average salaries for professionals with international business backgrounds are high. Consider these examples:
International financial managers' average salary:
International marketing managers' average salary:
United States Department of Commerce international trade specialists' average salary:
Classes and Requirements
At IUP, you'll take business core classes like:
Accounting Principles I and II
Business Policy
Business Statistics
Fundamentals of Finance
Legal Environment of Business
Principles of Marketing
Production and Operations Management
You'll also take courses in a concentration area of your choosing, like finance, human resources management, or marketing.
This major also requires a study abroad semester—giving you the opportunity to travel the world for school credit.
Full Academic Catalog Listing
The course catalog is the official reference for all our degree and course offerings. Check it out for a full listing of the classes available and requirements for this degree.
International Business Association
The International Business Association (IBA) works to get the word out about cross-cultural and business issues. The IBA also works to build diversity and friendship for its members, encouraging a global outlook with an emphasis on respectful and enthusiastic world exploration.
Study Abroad Opportunity
During your degree program, you'll travel abroad for a semester and study with some of the best international business professors from around the world. Students have studied in countries like:
Australia
China
France
Germany
Japan
Spain
United Kingdom
4+1 and Early Admission to Our MBA Program
You can earn your bachelor's as well as a master's degree in five years when you take advantage of IUP's 4+1 programs.
When you enter a 4+1 program as a sophomore, you will be able to reserve a spot in your chosen master's degree program. Just be sure to meet minimum requirements to continue in the program. 
A 4+1 program gives you more specialized knowledge for career advancement and lets you save on tuition costs, and you can complete your master's degree in a shorter timeframe. 
Truly Global Campus
IUP has a very international campus community—we have students from more than 50 countries. 
Our classes might take place on IUP's campuses, but we're also connected to our partners around the world. Videoconferencing has made it possible for you to have visitors in your classes from global organizations all over the world, expanding your experience way beyond the classroom.
One hundred percent of your professors will have global experience, and they can give you their own perspectives on the world of international business. In addition to their work at IUP, many of your professors run graduate programs around the world.