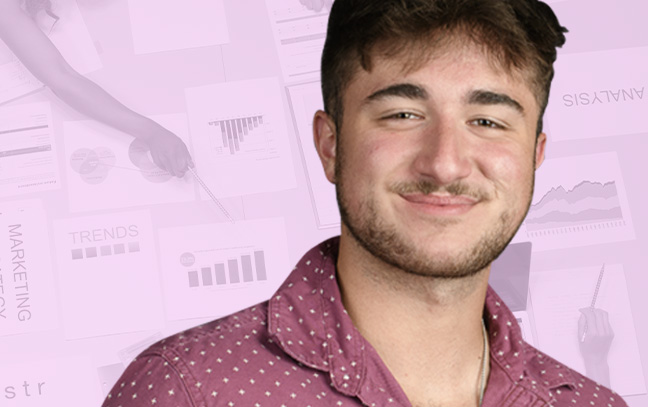 Why Complete Your MS in Strategic Communication?
For today's businesses and organizations to be successful, it's now essential to have goal-driven communication leaders at the table. It's time to claim your seat.
If you're ready to meet the 24/7 challenges of a digitally connected world, earning your master's degree will hone your talents—and put you at a competitive advantage—for this in-demand field.
Lay the foundation for a successful career: More than 25 percent of public relations and marketing professionals hold a master's degree (National Center for Education Statistics).
Set yourself apart: Professionals with master's degrees in communications earn almost 20 percent more annually than those with only bachelor's degrees (CBS News).
Growing opportunities: Overall employment of advertising, promotions, and marketing managers is projected to grow 10 percent from 2020 to 2030 (US Bureau of Labor Statistics).
The MS in Strategic Communication degree program is customizable with full- and part-time options and applied and research tracks. It offers rolling admission, which means you can apply shortly before the semester starts. However, we can only accept a limited number of students each year, so we encourage early applications. We also have positions for graduate assistants. For full consideration for an assistantship, submit your application by March 15.
Imagine Your Future
You'll graduate from the MS in Strategic Communication program ready to hit the ground running. Enhance your career prospects. Pennsylvania employs many communications professionals in public relations, media, and beyond.
Be ready to lead in any of these exciting areas:
Corporate communication
Corporate training
Health communication
Media and broadcasting
Political communication
Public relations
Social media management
Industries hiring professionals with a communication background include:
Financial services
Technology
Government
Healthcare
Higher education
Manufacturing
Largest industry in PA
Broadcasting and Telecommunications
PA rank for number of employed PR professionals
Top 25%
Job Growth for PA PR Specialists
+2%
more than the rest of the country
Classes and Requirements
What You'll Study
Whatever your goals for the future, one of the MS program tracks will help you make those ambitions a reality.
Applied track: Learn with a real-world edge. Focus on developing your writing and production skills and applying them to your internship or current job. This track requires students to take Advanced Strategic Communication Writing and Production, a course that will enhance your ability to develop goal-oriented media and communications campaigns.
Research track: Designed to grow your strategy skills for a career in communication or a future doctoral degree, you'll conduct industry-related research. This track requires a thesis and completion of the Research Development in Strategic Communication course.
Full Academic Catalog Listing
The course catalog is the official reference for all our degree and course offerings. Check it out for a full listing of the classes available and requirements for this degree.
Within a wide range of fields—from education and politics to safety science, business, and healthcare—having the ability to research and craft smart communications are essential and highly-valued skills. The Applied Track will help you build and demonstrate your abilities in these areas, so you can set yourself apart in the job market.
Our program is designed to address the core elements of career readiness, as defined by The National Association of Colleges and Employers:
Career and self development
Communication
Critical thinking
Equity and inclusion
Leadership
Professionalism
Teamwork
Technology
You'll hone these and other skills many employers are looking for, including problem solving, written and verbal communication expertise, and analytical skills (National Association of Colleges and Employers).
The Research Track enables you to dive deeply into a topic of interest that's directly relevant to your current or future career. You'll grow your expertise in researching and analyzing data using qualitative and quantitative methods, skills that are as important to effective communication as understanding audience and messaging techniques. The Research Track is also an excellent bridge to future doctoral studies.
In program coursework, you'll learn how to:
Analyze organizational communications needs
Integrate written and verbal messages with digital media production
Utilize critical thinking and argumentation to construct strategic messages
Apply your learning through comprehensive thesis research
By graduation, you'll be well-prepared to conduct the research that's vital for smart, targeted communications, or to continue your studies in a PhD or other doctoral-level program.
Application Requirements
If you're interested in earning your MS in Strategic Communication at IUP, be prepared to submit the following materials:
Online application form and application fee
Official transcripts of all undergraduate courses completed (except for IUP students and alumni, who will not need to provide their transcripts)
Two letters of recommendation from professional or academic references
A goal statement that details your reasons for earning the degree
Resume or curriculum vita
As an applicant, you'll need to complete your bachelor's degree before you begin graduate-level courses, and have earned a 3.0 GPA in your prior studies.
Early Admission for IUP Juniors
If you're a current IUP student working toward a bachelor's degree, you may apply for early admission to the MS in Strategic Communication program.
Early admission will let you jump-start future opportunities–and enter the field with an advanced degree faster.
Early admission requirements:
Open to current IUP students earning bachelor's degrees.
Must have a 3.0 GPA or higher, at least 15 credits in your major, and plan to complete at least 60 credits in the semester when applying.
Up to 12 credits can be taken through early admission, with credits counting toward bachelor's and master's degree completion, saving time and money.