Jacob Shaw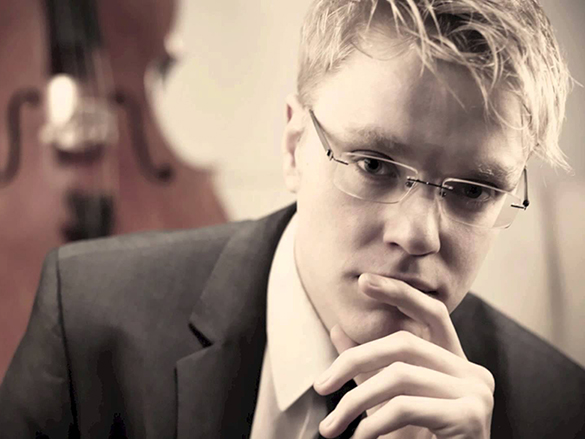 Jacob Shaw
March 06, 2018 at 8:00 p.m.
Gorell Recital Hall, Second Floor Sutton Hall
This event is over.
Internationally award winning British cellist Jacob Shaw has given acclaimed solo and chamber performances in numerous countries across several continents. Having played in prestigious venues such as Carnegie Hall, Guangzhou Opera, Porto Casa Da Musica, as well as on television and radio, Shaw has established himself as one of Europe's leading young cellists.
Performing traditional works that range from sonatas to folk music, his unique style offers a fresh approach to classical music. Being passionate to bring new young audiences to classical music, Shaw established his "Radical Classic" project to engage a fresh generation of listeners. By mixing contemporary dance, jazz, and indie music with subtle classical works, he introduces the genre to a new, culturally diverse demographic with his extensive repertoire.
Graduating in 2014 from the Royal Danish Academy of Music as a soloist for cello and chamber music, he released his debut CD album in 2015 and received rave reviews, including those from the director of the International Classical Music Awards, listing him as "one of the most charismatic and distinctive performers."
Equally in demand as a teacher, Shaw has given masterclasses in some of the most important music universities worldwide. In addition to being a Pirastro Artist, he has served as a Music Ambassador for Dulwich College International in Asia since 2012. Along with his family, he founded and co-directs the Festival International de Musique de Chambre en Charente.
Tickets for Jacob Shaw's performance are available by clicking on the button above or by calling the Lively Arts' ticket office at 724-357-1313. Tickets for any seats remaining will be sold at the door starting one hour prior to the performance start time. Tickets are priced at $22 for regular admission, $18 for seniors (60 or older), and $12 for active I-Card holders, students, and children. Group rates are available for parties of 15 or more.